4 Elements to Inspire your Dining Room Style
Over the years, the dining room has transformed into a space where friends and family gather for meals, into one that now holds multifunctional purposes. From working, holding discussions and even to hosting guests, dining rooms have revolutionised to serve a variety of different needs. As the purpose of dining rooms change to fit the modern era, its style naturally sees an evolution as well to synergise with the new functionalities of the dining room. Therefore, here are some current, trending design elements you can consider incorporating into your dining room to ensure its relevance in today's day and age.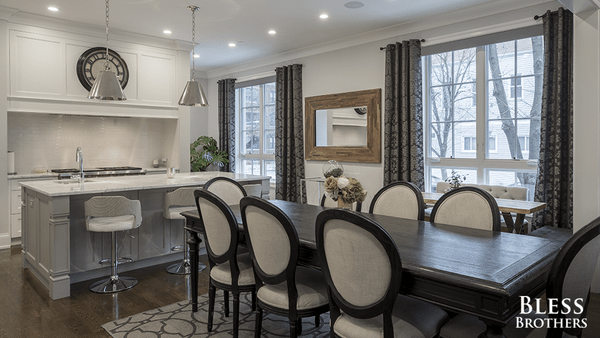 Despite the changes in dining room functionality, one aspect remains constant – it provides a space for people to come together, bond, and forge close relationships. Though the COVID-19 pandemic has impacted our social lifestyle with safe distancing measures, it does not take away from the fact that we as humans are naturally social creatures and our desire for human connection is deeply rooted.
In this sense, a round dining table set is the ideal choice to enhance personal interaction in your dining room. They allow everyone to face the centre, so that no one gets left out of a conversation. Engaging friends and family at the table becomes much more effortless when you can catch their attention in this way. Additionally, round dining table sets, due to their casual aesthetic and versatility, exude an air of openness that encourages conversation between people.
Greenery in the Dining Room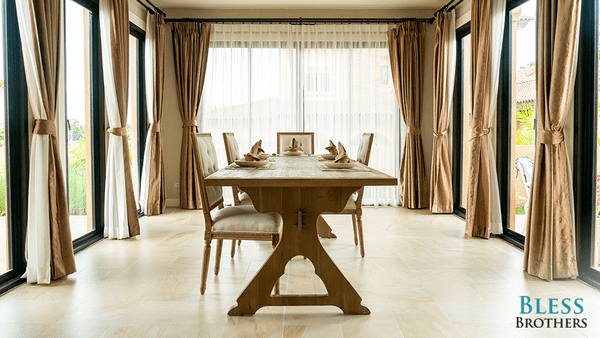 With the rise of global warming and climate change, sustainability efforts have become more prominent. People are doing their part to conserve the environment and incorporating greenery into both working and living spaces is all the rage. Typically when one thinks of greenery in a home, the balcony or outdoor corridors come to mind. Today however, homeowners are keen on having plants all around their house instead of limiting them to balconies or porches. The dining room especially has become a popular space for greenery.
Due to recent work from home measures, the dining room can be repurposed into a workstation, and the best workspaces combine the use of plants. Many are unaware that plants can boost work productivity and concentration. They also absorb background noise, making any space with plants a conducive spot to work. With the ability to keep indoor air fresh and elevate overall aesthetics, there is no better way to bring the outdoors in than with plants. You can even take it up a notch by buying wooden furniture such as a wood dining table set in Singapore to create a rustic look and feel. 
Say Goodbye to Formality and Structure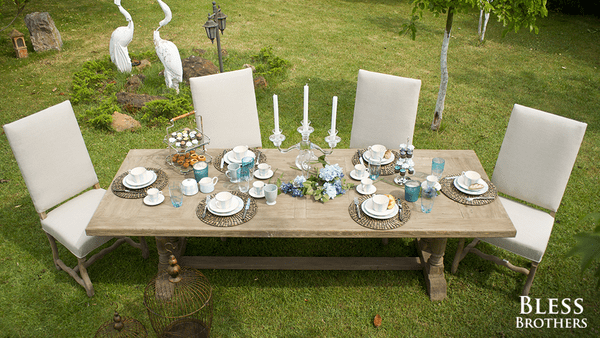 Elegant glass chandeliers with designer furniture and long, fancy dining table sets to match, are styles of the past. In our modern age, such designs would be considered vintage. Instead, boldness, vibrancy and creativity in the dining room are here to stay. Homeowners want a dining room that is personalised, individualistic and reflects their character. This is usually emphasised through accent furniture, which is designed to stand out against other pieces in the room. Think less muted and neutral, and more patterns and textures.
To further add a personal touch to your dining room, consider furniture with unique sculptural finishing, whether it is your dining table set, chair or even lighting. Replace your traditional dining chairs with benches instead to strip away from the structuralism of what a dining room is intended to look like.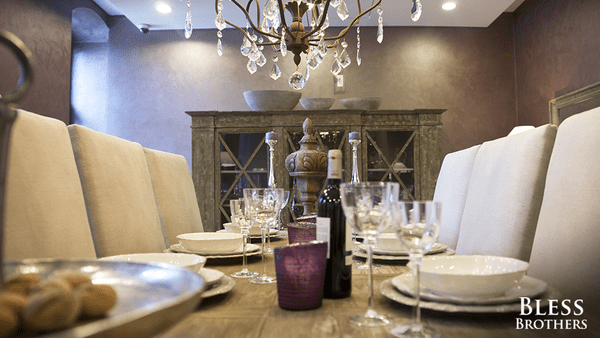 While open space concepts are in high demand among homeowners, the need for privacy is something we desire as well. Partitions and dividers present the perfect opportunity in providing the best of both worlds. Partitioning large areas is a common design technique used by architects and designers. Beyond segregating spaces, these structures also serve as beautiful decorative elements. From allocating and organising open spaces, creating a comfortable corner in a large environment, or simply hiding any disordered items in your dining room, dividers offer visual appeal and are highly functional pieces of furniture.
Above are just some of the many trending designs that can help inspire the style of your dining room. Ultimately, it is best to choose a design according to your preference and represents your personality. Looking at furniture shops online in Singapore is a great way to get you started on your dining room project.    
Bless Brothers is a furniture shop in Singapore offering a range of dining table sets to help you better furnish your dream dining room. Contact us today for more information.