Mixing And Matching Dining Chairs For A Unique Style
Beauty is in the eye of the beholder when it comes to mismatched furniture – some may like how different textures, designs and colours come together to create something unique, while others may find it too overwhelming. 
Fortunately, there are some tips to make mixing and matching work, especially for dining chairs in which you will have more options since homeowners typically get a minimum of four at one go.  
Here are some considerations to take into account when shopping for dining chairs in Singapore to help you nail this cool trend.
1. Same shape, different colours
If your home's colour palette is kept simple such as using mainly neutral colours, then buying dining chairs in the same shape but different colours can help to inject life into your haven. Sticking to the same shape retains consistency while the varying colours instantly spruce up any plain dining area. This is also great if you prefer doing away with decorations as the assortment of colours acts as accent furniture for your home. 
2. Same colour, different shapes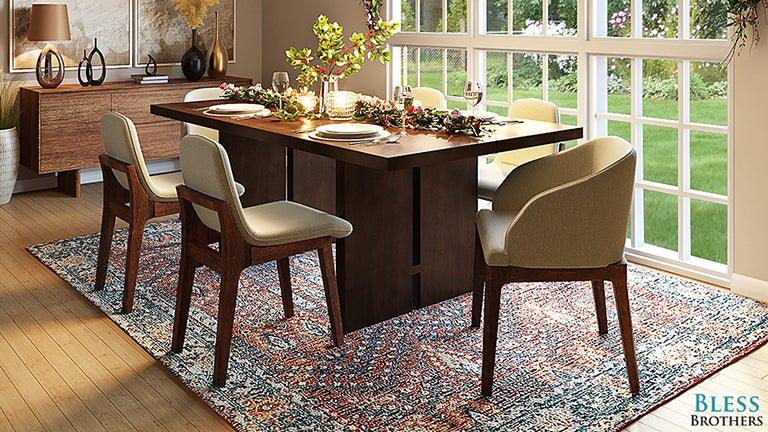 On the other hand, going for dining chairs in the same colour but different shapes works too. This is, in fact, one of the easiest ways to mix and match furniture for your dining area as there are no restrictions on designs and shapes as long as you choose the same colour. You could pair our Whisler Dining Chair with the Buckley Dining Chair in inconsistent shapes and they would still look perfect together since they both come in white. We recommend choosing the same material, either fabric or leather, to make them complement each other better. 
Another way to mix and match dining chairs is to choose everything in the same material. For instance, if leather dining chairs are your preference, then your only concern is to make sure all of your dining chairs are made of that material. Other aspects such as varying designs and shapes will not matter as much, since the similarity in the material will bring everything together.
4. Consider getting a bench
Dining tables made of wood are popular in Singapore so if you have decided to go with one when buying furniture for your home, then consider getting a bench while you are at it too. A matching bench is visually appealing and adds an element of consistency so it does not matter if you decide to go for something more eye-catching (in a different colour or material) for the remaining of your dining chairs.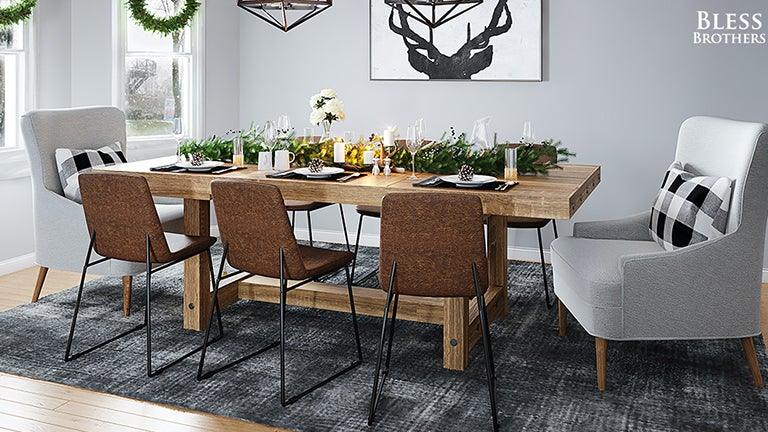 If you think accent chairs can only belong in the living room – think again. The aim of an accent chair is to add visual interest to any room so there is no need to worry it will not fit into your dining area. You can start off small by replacing two dining chairs out of the six with something more colourful to add pizzazz to your dining area. A different texture, design or shape works too. 
Ready to start mixing and matching dining chairs for your home? Shop designer furniture in Singapore online at Bless Brothers. 
Alternatively, contact us to find out more or head down to our showroom to shop furniture and see it in person yourself!