The dining table set in Singapore is a staple in every home's dining room. Typically, when people think of dining sets the first image that comes to mind is food. Though traditionally, dining tables were only used for serving and enjoying meals, their functionality has evolved for more purposes to suit the modern home. Beyond providing a space to eat, the function of dining table sets have expanded to include working, playing board games or even birthday celebrations. Though the purposes vary, one important constant remains, it is the ideal spot for friends and family to come together, foster human interaction, bond and strengthen relationships.
The multifunctionality of dining table sets means that this piece of furniture will be frequently used by you and guests. As such, having a beautiful dining table to showcase and flaunt holds great appeal. With the variety of dining table set styles available, finding the perfect one that suits your unique preference and complements your home aesthetics is made possible. Today, these are some of the popular dining table style sets many homeowners have.
In our modern, fast-paced lifestyles, there is something about antiques and traditional dining table sets that gives a dining room more personality and character. With ornately intricate detailing including sturdy legs and dark solid wood, this dining set style is a timeless piece that possesses the ability to transcend time and fit in well with the contemporary home.  
Contrary to the traditional dining table sets, some homeowners prefer a more contemporary aura for their home. Glass dining tables are the hallmarks of the modern style as their transparent and reflective surface creates the illusion of having a bigger room space. This is aligned with one of the modern design elements. In addition, dining sets that maximise the use of straight lines and edges are also aspects that characterise the modern aesthetic. Bless Brothers' Prisma Dining Table with its distinct lines and polished surface makes for a beautiful modern dining set.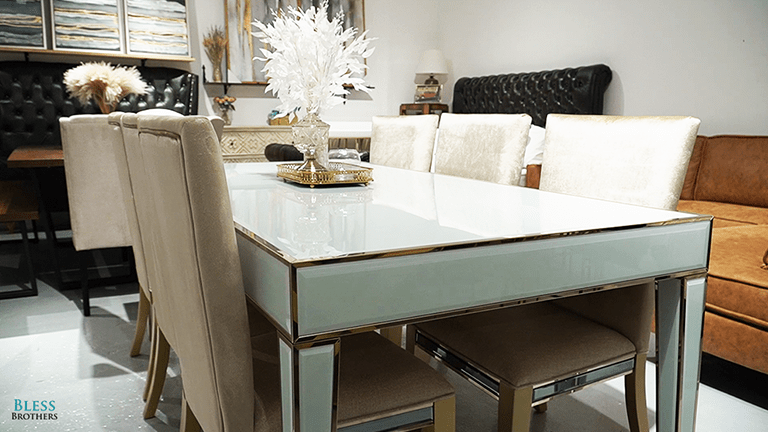 A mix between the traditional and modern style, transitional dining table sets leverage the colour and material of the traditional aesthetic like dark solid wood, while incorporating geometric aspects of the modern design including shapes with sleek lines. Transitional dining sets are highly sought-after as they provide the best of both worlds of homeowners who love both the traditional and modern aesthetic. 
Beyond matching your dining set to your preferred overall theme, little design features can elevate and make a huge difference to your dining room as well! For homeowners who wish to prioritise details over the big picture, consider the below dining set design styles.   
Make a statement in your home with dining table sets that incorporate unique leg shapes from pedestals to curves and X-shapes to columns. Dining tables of this design style can serve as accent furniture, drawing attention and captivating audiences from the moment they enter your home. To tie in the entire look together, purchase dining chairs of a sleek design so as not to deflect from the style of your dining table. Bless Brothers' Anastasia Marble Dining set, with its X-shaped legs and streamlined dining chairs may be just what you are looking for!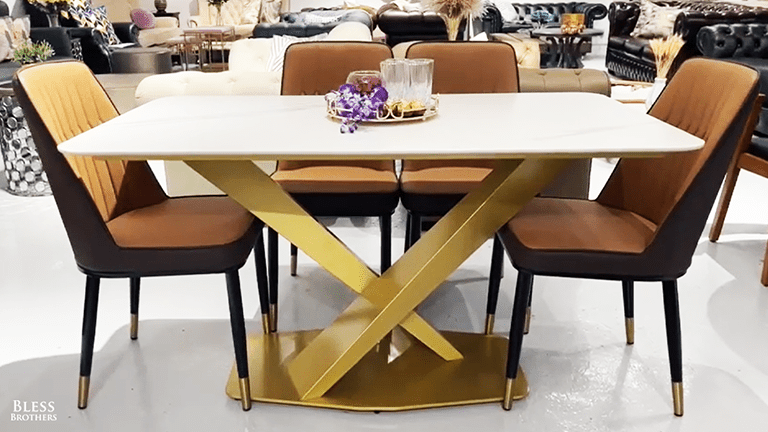 Muted colours with neutral tones are favoured in interior design as they exude sophistication and complement well with almost any décor. However, there lies the concern that it might make a space look boring or lifeless. The trick is to incorporate neutrals with textures. For instance, should you get a wooden dining table set with matching table and chair colours, ensure that the wood has lots of graining for added texture. For your chairs, neutral coloured microsuede chairs with diamond tufting allows for more texture as well. You can even go one step further by getting a faux fur rug and enhancing the area with a pop of colour with a vase of brightly coloured flowers. 
Typically, dining table sets consist of a dining table with multiple, individual chairs surrounding them. To set your dining room apart from others, consider incorporating benches together with dining chairs. Not only does it add a touch of modernity to your dining room, it enlivens the space with casualness and empowers greater bonding as guests will be seated closer together. Bless Brothers' Meta Dining Table Set is well-suited for this purpose.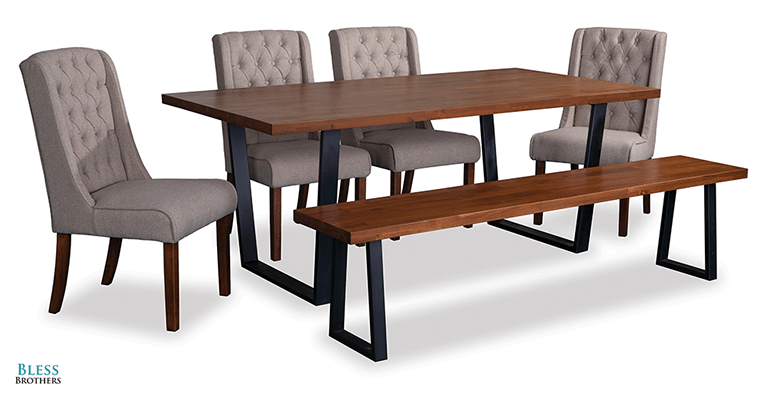 These are just some of the many timeless dining table set styles that will continue to remain trendy over the years, due to their beautiful and unique aesthetics. Ultimately, the most important thing is to ensure that the design you end up choosing is one that you will love.  
Bless Brothers, a furniture shop in Singapore offers a wide range of different dining table sets. No matter your preference, you can always find your ideal dining table set with us! Contact us for more information.