Spruce Up Your Living Room With These 4 Side Table Styles
The coffee table is a useful piece of furniture in every living room because it provides a place to hold your coffee cups and dessert, as well as a space to prop your feet up while you're binge-watching your favourite show. However, coffee tables require you to sit up and reach forward whenever you want another sip of that coffee, which can be tiring and inconvenient for many people. 
This is where side tables come in handy. Side tables are typically placed in the living room next to a piece of seating furniture, such as a sofa or a bed. Its primary function is to ensure that essential items are kept within reach. Instead of having to reach forward to grab something from your coffee table, lounging will be much easier if you can simply swing your arms to the side to grab things from your side table.
We've rounded up some side table styles you can spruce up your living room with. Check them out.
A nesting table is designed to be used in conjunction with a small group of other nesting tables. They are typically sold in sets of two to three, with each table manufactured in a different height, allowing them to be nested together and stored away. These side tables are ideal space-saving furniture pieces for small living rooms. However, it may be an unnecessary buy if you don't have a use for the other smaller side tables nestled below the larger one.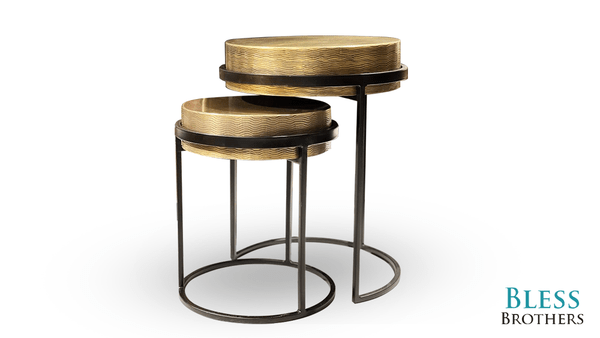 The Tova Nesting Tables are a great fit for industrial or mid-century modern interiors; they are round side tables that can soften the look of any rough interior space and are even suitable for use around children. 
Drum side tables are cylindrical round side tables with central support. They first appeared in the late 18th century. Drum tables have large surface areas on the sides, allowing designers to create beautiful and intricate details that add visual interest to any home interior.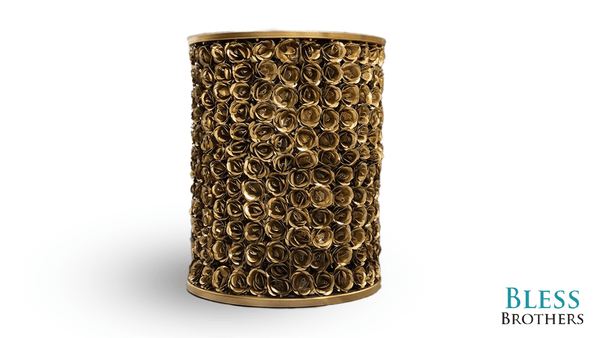 The Rosy Side Table is a stunning piece that looks like an intricate piece of art. It has a mirror top and would look great in a modern luxury interior.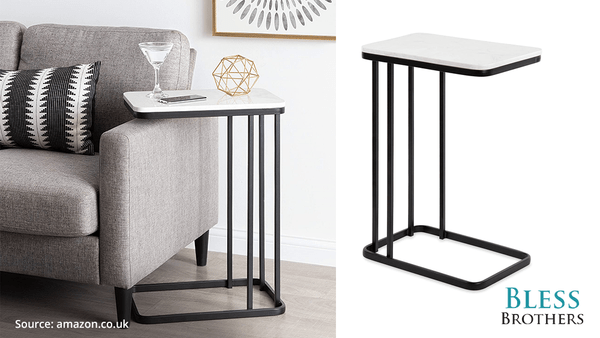 A C-table is a type of side table for living rooms that has a cantilevered top that looks like the letter C. The design includes a tray space that can be used over a sofa or armchair, while the bottom slides underneath so you can relax on your sofa while enjoying the additional "desk space". This design makes it much more comfortable and convenient for those who don't want to get up from their sofa while catching up on their favourite series.
A trunk side table is one that is made to look like and function like a trunk. Most of them have a large storage space where you can store all of your daily necessities. These may appear to be practical pieces of living room furniture, but if you have items on the tops of these tables, it will be inconvenient to have to remove whatever is on them before you can open the trunk.
If you do require storage space in your living room, regular side tables with drawer cabinets that are much easier to open and close are a good option.
Side tables are multifunctional and stylish pieces of furniture that add just the right amount of colour or texture to a room. If you choose them carefully, you'll find that you enjoy using the side table much more than a coffee table.
Looking for a new side table for your living room? Buy the furniture you need from Bless Brothers, a furniture shop in Singapore with an online shopping platform where you can easily get all of your furniture.