How to Choose the Perfect Side Table for your Living Room
Whenever we picture a living room, the TV console, sofa and coffee table are furniture that come to mind. Seldom do we think about the side table. In fact, some homes do not even include side tables in their living room! Though often overlooked, the side table is an important piece of furniture that delivers both form and function.
However, with the variety of side table options available today, choosing the perfect side table for your living room can be a challenging process. There are many different elements to consider from the style, height, shape, material and storage. In this article, we break down these different aspects, helping you make a more well-informed decision when selecting your side table.
When it comes to the style of your side table, always remember to think about your living room as a whole, rather than the side table alone. Adding contrast is a popular way to mix and match different pieces of furniture in your living room. Is your living room currently filled with bold patterns and textures? If so, perhaps incorporating a simplistic, minimalist side table such as Bless Brothers' Harley Side Table makes the perfect choice. On the other hand, if your living room exudes modernism, complementing that aesthetic with something intricate and ornate is the way to go. Our Rosy Side Table, with its unique floral design is sure to captivate guests, making it the ideal accent furniture for your living room.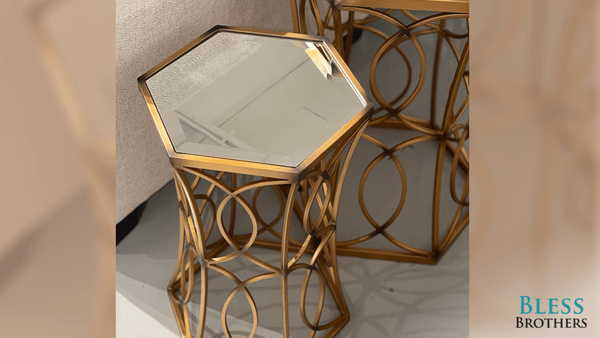 The function of the side table for your living room lies in the easy reach of items, from where you are sitting. As such, think of your side table as an extension of your sofa. It is best to have a side table that sits equal to or just below an arm (about 3 inches) of the seat next to it. In this way, besides creating a nice visual flow in the room, the table is conveniently located for setting a drink down or turning on the lamp. The standard sofa arm height is between 24 and 32 inches so keep these figures in mind and check if furniture shops online in Singapore state their side table dimensions before purchasing a side table for your living room.  
Rounded or straight edged? It all depends on your living room space and what your side table holds. Round side tables in Singapore bring balance to a square room filled with boxy pieces. Additionally, they are also safer than straight edged side tables, perfect for families with children or pets. Bless Brothers' Tova Nesting Table is made of two sets of rounded side tables to suit any household. In contrast, square or rectangular side tables provide more surface area than round side tables. If you are one to place many items on your side table, then the square or rectangular side table works best. Furthermore, square side tables have space saving capabilities, allowing them to be tucked in or fit into corners when necessary.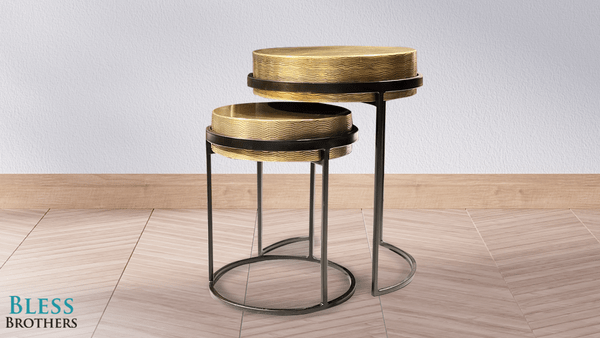 Side tables are crafted from a myriad of materials, ranging from wood to metal. Each material possesses its own strengths to suit different home interior needs. Wood is a timeless choice to convey a traditional look. It is also sturdy and extremely resilient, easily lasting for many years with proper care. Metals side tables provide a contemporary and industrial look, making them ideal for modern settings. Easy to maintain, all they require is a simple wipe down from time to time. You can even take it one step further and add to the modern aesthetics by getting a metal side table with a reflective surface such as Bless Brothers' Cora Side Table. A reflective surface creates an illusion, making your living room look much more airy and spacious.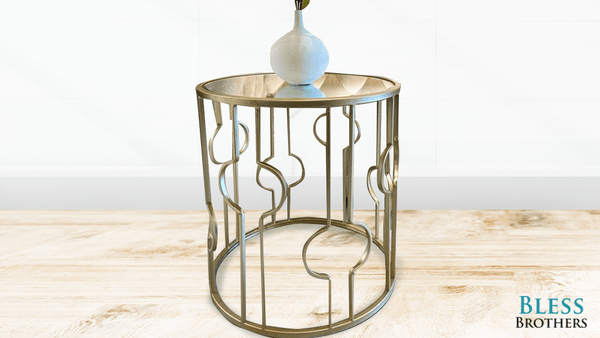 Last but not least, ensure that the side table you choose for your living room meets your needs in terms of functionality. Look for a table with drawers or open shelves if you need extra storage space for remote controls, games, tablets, books or magazines. For instance, our Daisy 2-Door Cabinet doubles as both a side table and a cabinet, with a table top for display items and a cabinet to store non display items. Talk about form and functionality! 
These are just some of the factors to consider when choosing a side table for your living room. The key takeaways are to picture your living room as a whole, think about your side table's function and take into account your own preferences. With these in mind, side table shopping becomes effortless.