If you are splurging on the most charming Chesterfield sofa, you can bet this is a grand investment that will stick with you for years to come. Yet, to truly make the most out of your purchase, routine sofa care is key to maintain the look of its luxurious leather in the long haul. At this moment, you may be wondering if it'll take up a lot of your time. However, depending on how often you clean your sofa, it doesn't have to be a challenging chore to tackle. In fact, it can be easily completed within an hour. Here are our tips and tricks to cleaning your Chesterfield furniture the right way.  
More often than not, accidental spills are a common occurrence in many households in Singapore. Especially with kids or pets at home, it is simply inevitable no matter how cautious you are. When the occasional mess happens, it is important to tend to it immediately to prevent the liquid from staining your sofa further.
Some stains can be easily removed through either blotting using a dry cloth or wiping with a damp cloth. But if you're adding a cleaning solution, make sure that you're applying a specialised leather cleaning product on a microfibre cloth. As some products may strip away the natural oils found in the leather, this can cause the high-quality material to dry out and crack at a faster rate. To avoid significant damage, be sure that it's a cleaning product specially formulated for leather application. Give it a test on a hidden spot to ensure it's suitable to use on your Chesterfield sofa.
From there, work in one direction as you gently wipe the spot and repeat the process if needed. Besides dealing with the stains, you can also give your sofa a once-over while you're at it. Remember to wipe it once more with a clean cloth before drying your sofa thoroughly.
Once every few months, it is essential to find some time to thoroughly clean your sofa. Dust and other allergens may build up on your sofa surface over time and can be difficult to remove when left forgotten. Take this time to focus on the areas that you often overlook – that includes the crevices and edges of your sofa. You'll first want to remove any dust or dirt on the surface of your sofa. Make sure to use a soft, microfibre cloth to gently wipe away these loose particles. If you're vacuuming instead, opt for a soft brush attachment to avoid scratching the leather material.
As with tackling stains, the same applies to cleaning the entire sofa. Use a cloth dampened with water and stick to your specialised leather cleaner. Add the solution in minimal amounts onto your sofa and wipe it down. Ensure that your cloth is not too wet such that it might leave water stains on your leather. Again, follow this up with a clean cloth before leaving your sofa to dry.  
However, if you lack sufficient time to properly tend to your sofa, you can also consider sending it for professional cleaning services that will not only help you deep clean your sofa more effectively but also remove any odours in the process as well.
On top of cleaning your sofa, you can also treat your Chesterfield sofa with a leather conditioner. While leather ages beautifully over time, you'll want to prevent the leather from drying out or cracking. Especially if your sofa is under direct sunlight exposure, regular conditioning can help to re-moisturise the material and retain its natural properties. That way, it will feel soft and supple to the touch. 
One last step to spruce up the look and feel of your Chesterfield sofa: Buffing. To restore its natural shine, buffing is also an essential step that can accentuate the overall appearance of your sofa. Make sure your leather sofa is dry first before proceeding to buff it.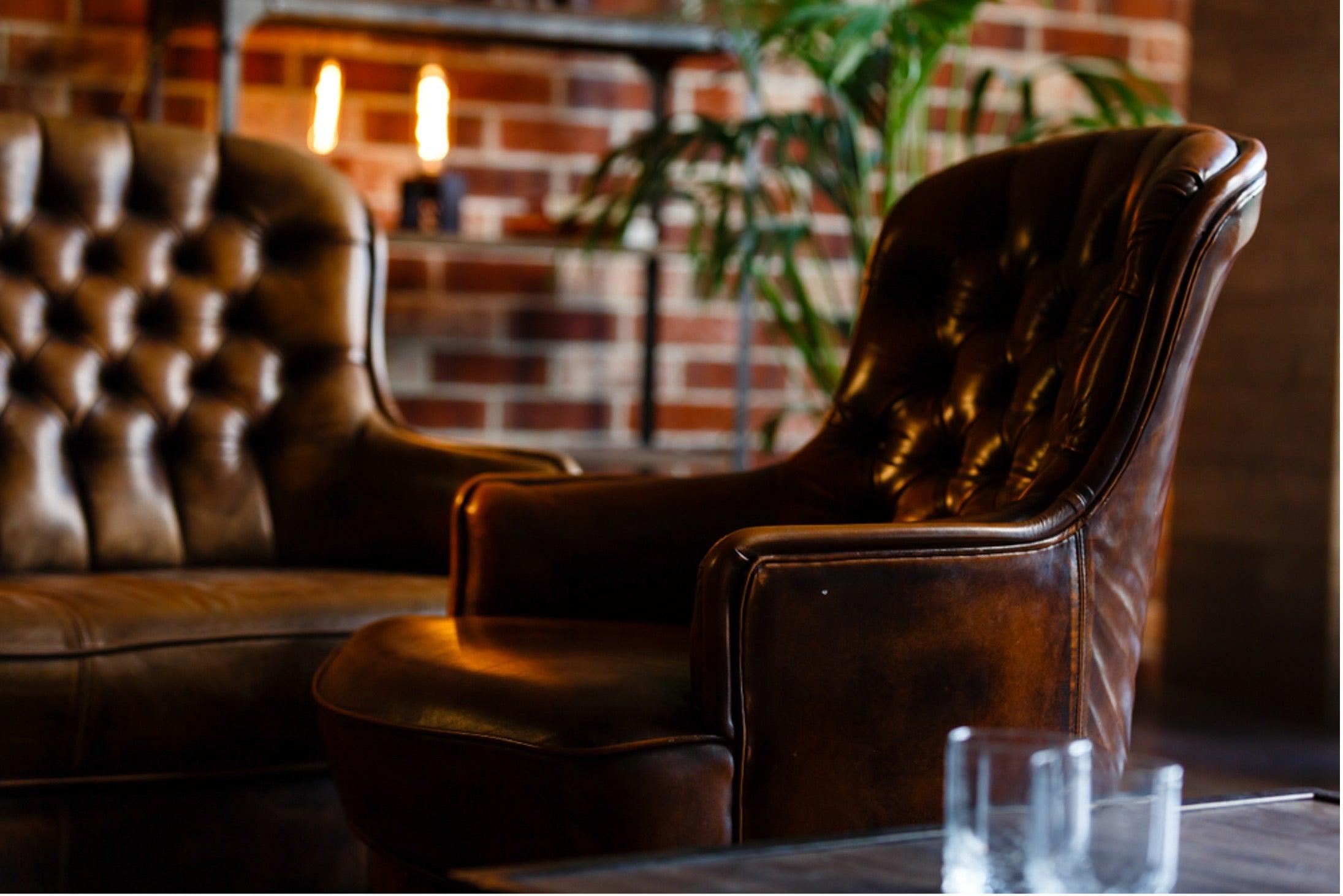 Ready to Embrace the Beauty of Your Chesterfield Sofa?
Now you know how to work your way through giving your one-of-a-kind sofa the care and attention it deserves – so that you and your family can enjoy its grandeur for years to come! On top of Chesterfield sofas, consider a gorgeous Chesterfield armchair to enhance the regal aesthetic of your living spaces.