Just like any big investment, it is best to go through thoughtful consideration and planning before purchasing leather furniture. Some of the things that you can consider include which room will it go into, who will be using it? Will it fit your household of children and pets, or are you looking for a statement piece? Asking yourself these questions can help you to hone in on what you need before you start shopping. 
One of the most popular upholstery coverings for sofas, chairs, sofa beds, and even footstools is leather. Whether you're looking for a stylish piece or a vintage Chesterfield sofa, leather upholstery often comes with different grains, coatings, as well as textures. Hence, in this article, we'll provide you with some tips to consider before investing in a leather sofa for your home. 
When purchasing a sofa, one of the most important considerations is size. A typical two-seater leather sofa is classified as 'medium-sized' whereas a three-seater is large. Due to the increasingly small living spaces in Singapore homes, many homeowners may choose two-seater leather sofas over three-seater ones to be able to fit the available space.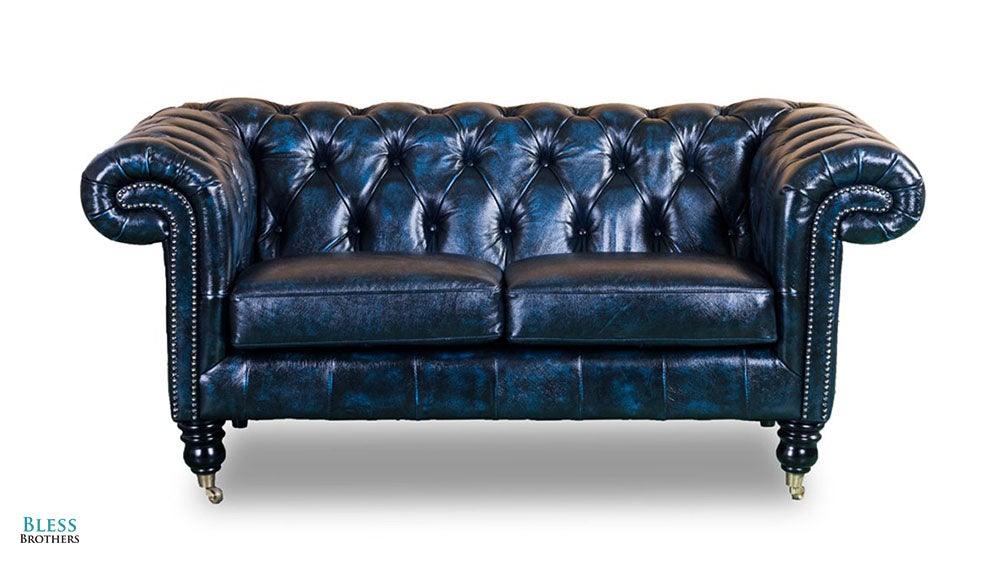 If you have the liberty of space, then you can consider a three-seater sofa. As a result of its size, a three-seater leather sofa may over-dominate a room if it is surrounded by too many furniture pieces. However, if the number of seats is a top priority for you and your family, then it is best to rearrange your existing furniture to ensure a balance of visual weight.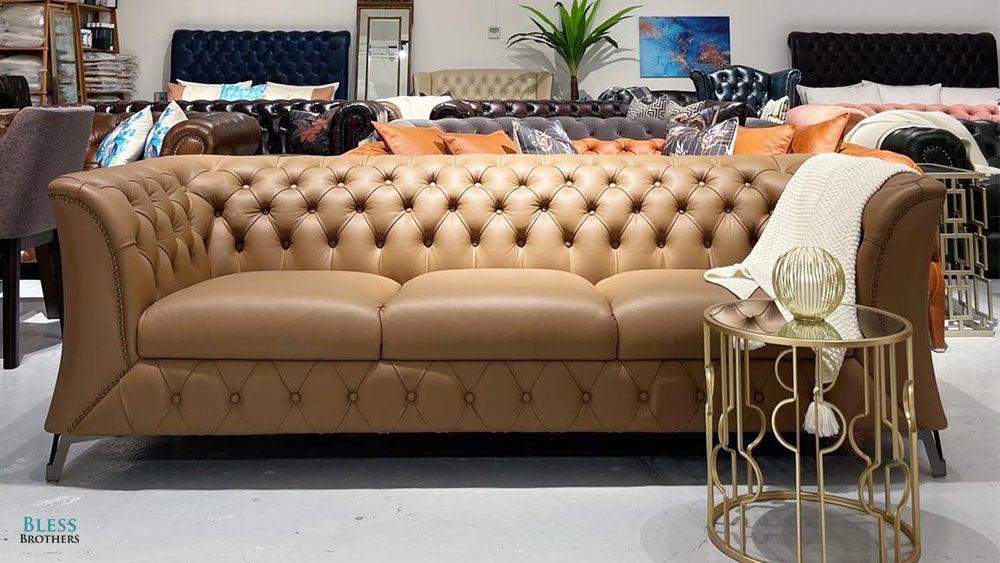 A tip to help you decide between two- or three-seater leather sofas is to look at the sofa design. For instance, if your living room is not square, then having a corner or chaise-style sofa may unintentionally cause a split in the overall space. 
Leather sofas come in many different styles, from vintage ones inspired by Chesterfield sofas to contemporary/modern ones – making it easy to match your interior design.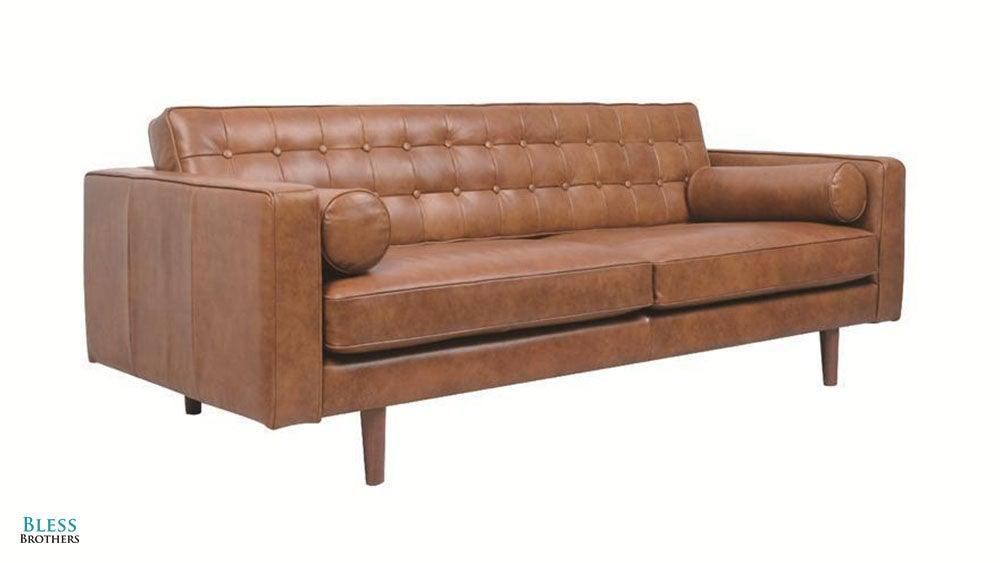 For instance, Bless Brothers' classic vintage leather sofas have a natural grain and texture to exude elegance whilst at the same time allowing it to blend effortlessly with its surroundings. It serves as a focal point and a structural piece around which the rest of your room may be built.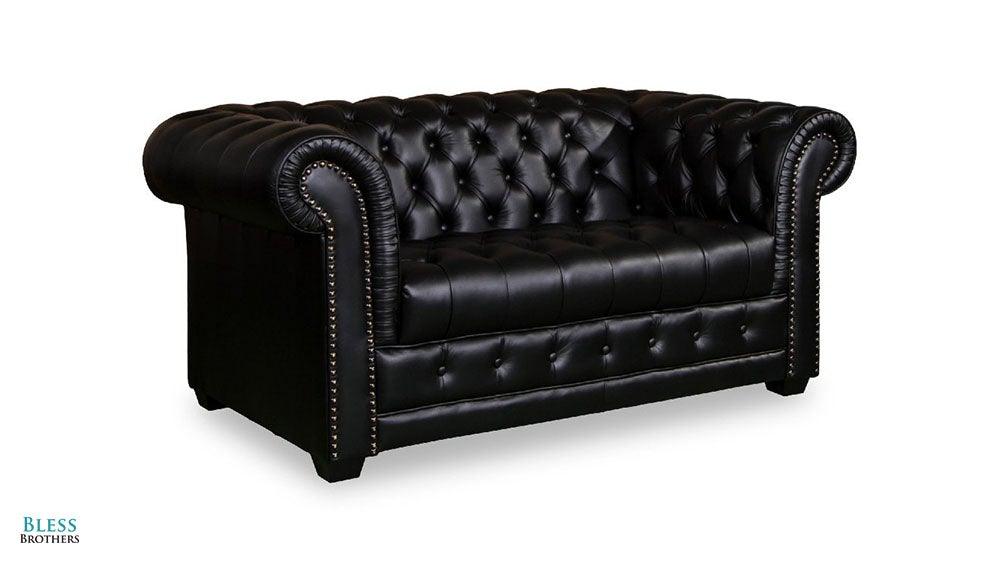 Regardless of style, a leather sofa creates a timeless look and feel. It provides elegance to your space, and unlike fabric sofas, leather ones tend to not go out of style.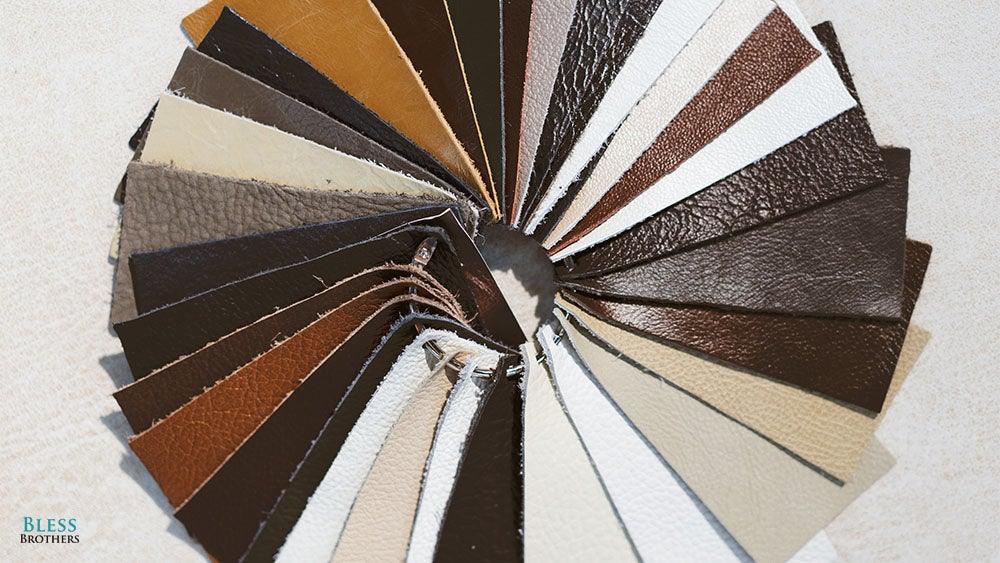 Did you know that leather sofas can be classified into several different categories based on the type of leather that's used?
Known as one of the highest quality leather available. The outermost layer of the hide is removed to obtain top-grain leather as a result of imperfections and blemishes. This gives rise to leather that is softer and easier to work with.
Full-grain leather is derived from the top layer of the hide and is known to be of the highest quality. Not only is it aesthetically exquisite, but it is also durable as most of the toughest fibres are in the top layer. Furthermore, it retains the beauty of the natural grains, telling a story in its imperfections and marks. As the leather sofa ages, it develops a beautiful patina. 
Genuine leather, otherwise known as suede, is considered a lower quality leather. Made from the deeper layers of hide, genuine leather tends to be less durable with no natural grains. As such, many leather sofa manufacturers will emboss it with artificial grains to create some texture. 
Full-aniline leather is dyed with a soluble dye known as aniline to penetrate the material. This allows you to achieve the desired colour whilst still retaining the natural look of the leather such as visible scars, pores, or blemishes. 
Even though it is a common industry practice to use lower quality leather for less important areas of sofas, here at Bless Brothers, we do not compromise on the quality of our leather sofas. 
Vintage leather sofas are statement pieces and apart from the type of leather, it is also important to not compromise on the shade you want. For instance, if your room is darker, then getting a vintage leather sofa of a caramel-tan shade can help to reflect light well and lift a gloomy room.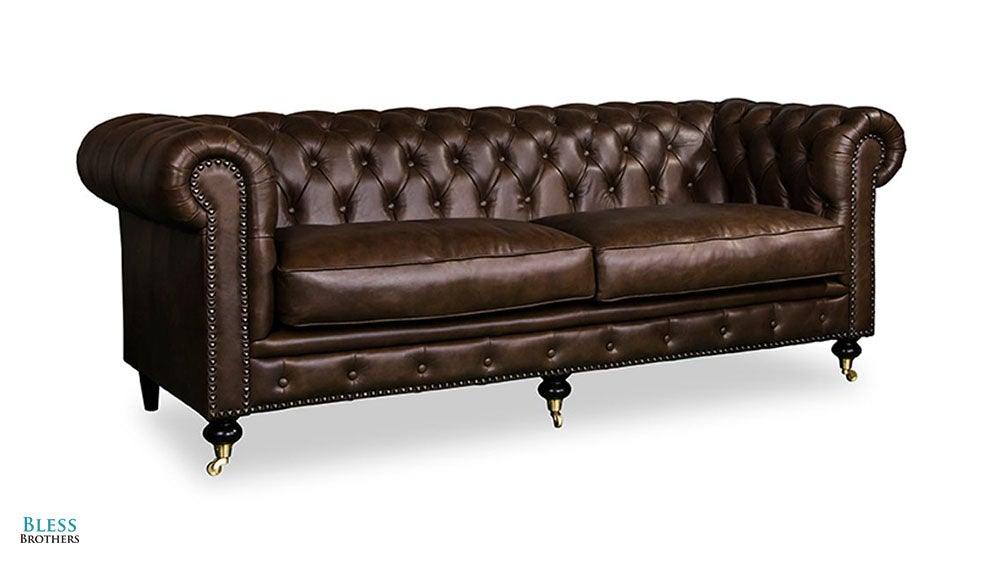 It is also good to note that leather colours often change in popularity and though chocolate-brown, red, and black may seem too heavy at first, can take on a new lease of life once they are worn and knocked back. 
Apart from providing you and your loved ones with comfortable seating, investing in a leather sofa of the right colours, style, and size can help to create an elegant living space. 
From simple two-seater leather sofas to vintage Chesterfield-inspired ones, we have a wide range of quality leather sofas to suit your living space and needs. Visit Bless Brothers online or at our retail stores to shop for your next sofa.