What makes a house a home, is the furniture that resides within. Imagine your house without any furniture, it would be almost impossible to live in comfortably. Not only does furniture give a complete design to your home, it also brings comfort as well. No matter the different reasonings for buying furniture in Singapore, one thing remains constant – it is imperatively one of the most important elements that ties your home together and makes it feel lived in. Over the years, furniture has evolved from being merely functional items to being symbols of luxury and having beautiful designs in today's world.  
Home Furniture: A Backdrop to our Lives
Furniture is essential to us for many reasons and serves as a backdrop to our lives. We grow and change as we get older, from superficialities including our style and design preferences to more deep-rooted personality traits such as our perspectives, values and beliefs. These are highly visible in the way we buy furniture. For example, an individual who is an advocate in sustainability and believes in preserving the environment may adopt a more minimalist design with rustic style furniture, while an individual who values class, elegance and sophistication might opt for a modern design with designer furniture. As home furniture plays a big part in reflecting our current circumstance and assimilating to our lifestyle, our furnishing can change as we go through changes big and small.
General Uses of Home Furniture
From providing a sense of security and familiarity in your home, to breathing life into your desired aesthetic, the different uses of home furniture are in abundance. Ultimately, it always boils down to two main aspects – form, which is the style you wish to achieve, and function which takes into consideration different components including comfort and space utility.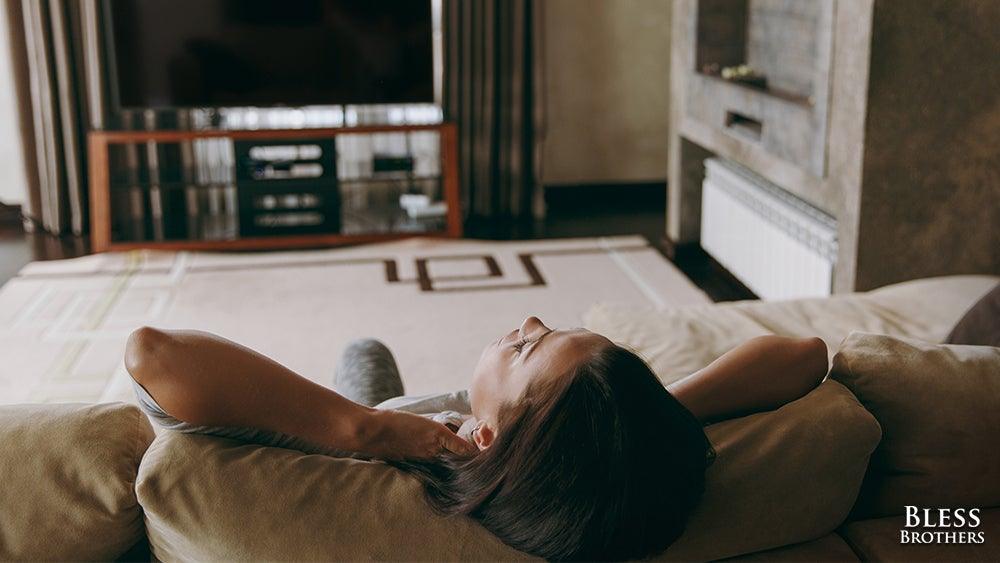 The old adage 'there's no place like home' certainly rings true here, with a comfy bed waiting after a long day of work and a sofa to lounge and relax in while you watch your favourite programmes. Having comfortable furniture is so important, for without it, your home becomes just like any other outdoor space. Moreover, comfort can impact our physical, mental and overall wellbeing in positive ways. Ergonomic furniture, designed to specifically support function and comfort for human use can help reduce the risk of joint pain and back issues. Being comfortable also improves our mood, increases our happiness and helps us to relax and wind down.
Circulation and Flow of Space
Buying comfortable furniture that suits your lifestyle and aesthetics is one thing, but it is also crucial to consider the next step – furniture placement. Furniture placement creates a division of areas within your home, better defining and ensuring flow of space. By either grouping furniture or placing them around individually, it is key to ensure that there is enough standing space, seats and room for movement, which will dictate how others and yourself move around your home. This is also known as circulation. Furniture and functionality come hand in hand for the best utilisation of space where furniture serves as a functional and circulatory element in interior design.
For most, the best use of furniture lies in their ability to bring ideas and concepts to life, accentuating any theme that homeowners require for their home design. It presents the perfect opportunity for you to unleash your creativity and let the designer in you shine. Leveraging on furniture in home design remains one of the best ways for self-expression and enables you to showcase your style and individuality to others. Since furniture shops in Singapore provide a range of different colours, shapes, sizes and textures, finding the perfect furniture to fit your aesthetic becomes an effortless and fun experience. 
A Breakdown of the Different Types of Furniture
Furniture comes in a variety of forms and buying the right kind of furniture to fill each part of your house can be a challenging and daunting task. If you have an empty house or are planning for a major remodel, you'll have to make some tough decisions. Learn about your options for furnishing your home before you decide how to decorate your rooms. You need to know what types of furniture you can use, and what furniture pieces are available. Therefore, we will look into some of the more common pieces of furniture that are present in almost every house.
As the epicentre of domestic life, sofas are a staple especially if you're looking to seat more than two people comfortably at once in your living room. Beyond its functionality of providing a comfortable spot for lounging, sofas promote social interactions and gatherings. When friends and family are over, the sofa is usually where everyone gathers for conversation. Since sofas are large pieces of furniture that last for years and play a big part in comfort, considering the different styles and types of sofa to choose from is quintessential. 
Loveseats or two-seater sofas are typically designed for two people, offering a more intimate seating position. This is the perfect type of sofa for young couples, newlyweds or homes that require a seating area, but are too small to fit a traditional sofa. As loveseats come in all shapes, sizes, styles and colour, from leather sofa to fabric sofa, they can be integrated into almost any design style or existing space. Loveseats are usually between 40 and 70 inches long, leaving you with various options when it comes to length. Should you have a small space but do a lot of entertaining, you can opt for a longer loveseat to accommodate up to three people.
Standard Three-seater Sofas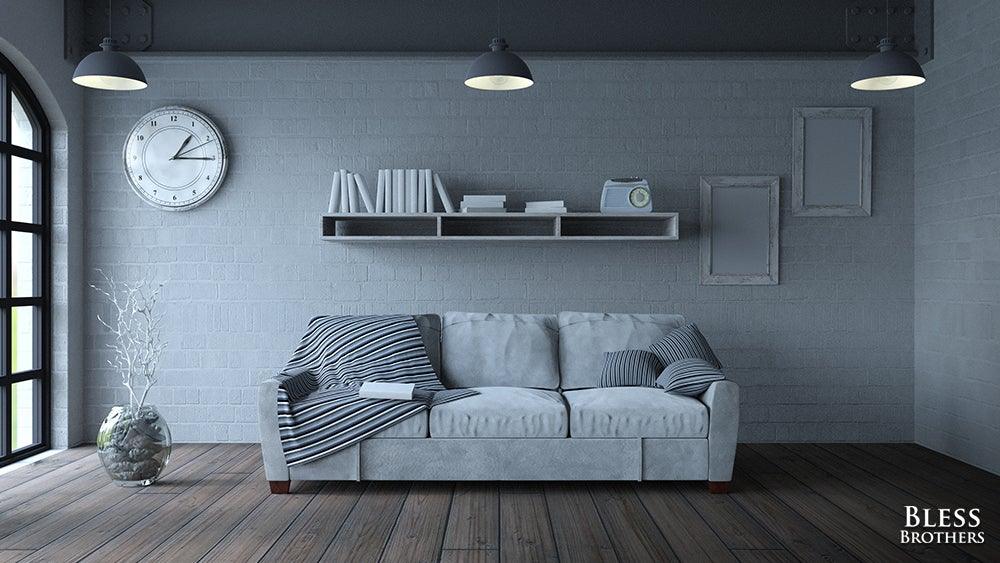 The standard sofa is composed of a bench that seats at least two people, has two arms, and a back. Most standard sofas are entirely upholstered and contain padded seats and backs, which are either sewed into or removable. Living and family rooms are best suited to three-seater sofas. As a result of the longer couch dimensions, they are unlikely to fit well in other rooms of the house. In general, your three-seater sofa should face your television or entertainment centre. Like loveseats, these standard sofas come in a variety of styles from a vintage sofa to a rustic one. Therefore, finding the ideal style to match your home aesthetic is made possible.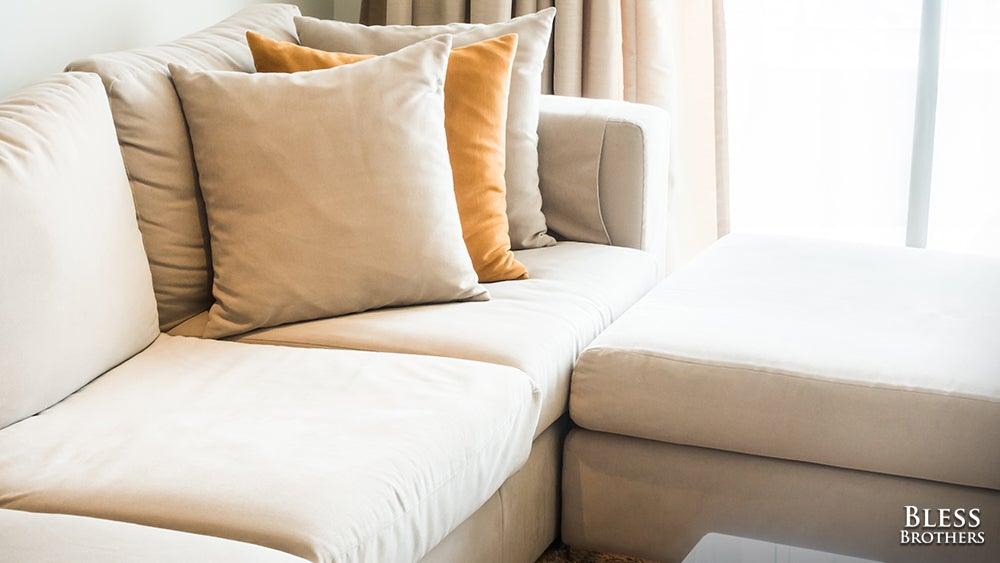 The L-shaped sofa can accommodate up to seven people comfortably without taking up much space. The sofa's space-saving capabilities allow it to be placed in a corner to make more room for other furniture. While providing a high quality TV viewing experience, its configuration enables close interaction between friends. However, L-shaped sofas may not be suitable for every kind of room, so consider how the room will be used when making a purchase. Changing the decor of your home can also be difficult because L-shaped sofas are difficult to move and obstruct limited doorways.
Located in the living room, the dining table set can be a symbol of wealth and prosperity. Colour, shape, and size of the table also play major roles and convey a great deal about the family and the home. Aside from providing the ideal space to dine in, dining table sets in Singapore have multifunctional purposes including an area for conversation, games and even work. Throughout centuries, dining table sets express different meanings and symbolisms. A larger table in Chinese culture meant the ability to feed more people – the bigger the table, the better, which also implied status. Ultimately, the shape of the table is still one of the most important elements as it allows people to eat and communicate effectively. 
Rectangular Dining Table Set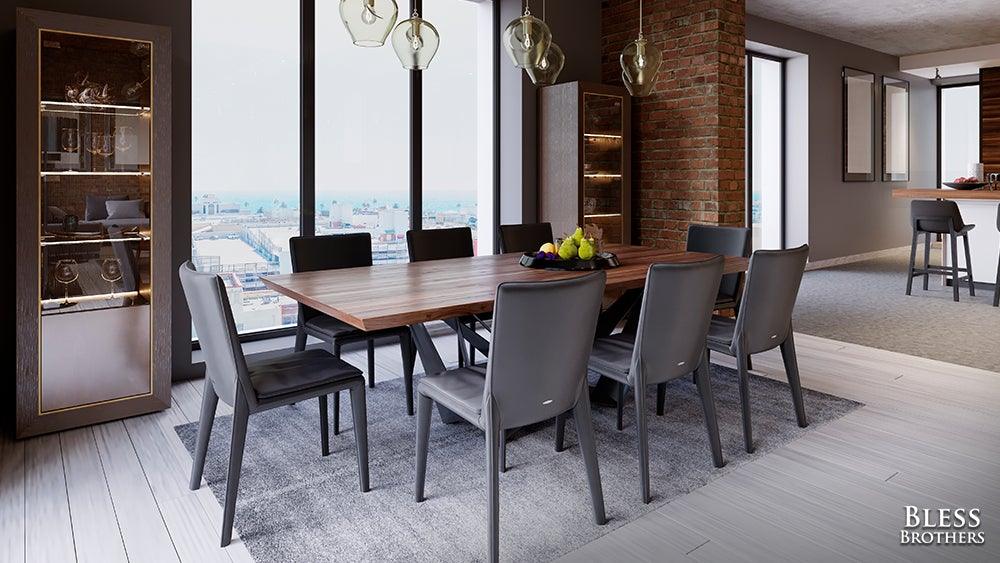 A rectangular dining table set creates a sophisticated look and feel with a formal quality that elevates any dining room area. A lengthy and narrow room is where the rectangular dining table set is best showcased. A rectangular dining table set can seat four guests, and the head of the table can accommodate an extra two people for entertaining. They tend to be a popular choice in apartments where dining space is limited. This contemporary dining set style is best complemented with upholstered dining chairs, ones with curved frames to counteract its strong form.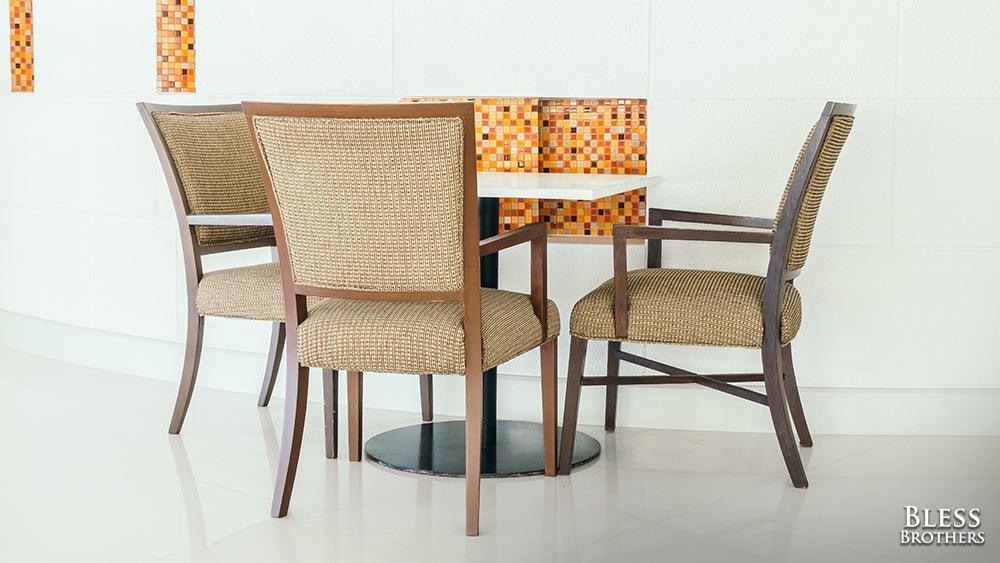 Similar to rectangular dining table sets, square dining table sets bring a strong form and crispness to a room's décor. They are usually the most space-efficient dining table set as they can be tucked in against walls and moved out of the way if necessary. Buying dining chairs in Singapore with an angular design to slide under the table can help take up minimal floor space. Compared to rectangular dining table sets, square dining sets create a more intimate setting enabling closer proximity between seaters. When choosing between a rectangular or square dining table set, think about whether you prefer grandeur or intimacy. A rectangular dining table set exudes more elegance while a square shaped one prioritises intimacy.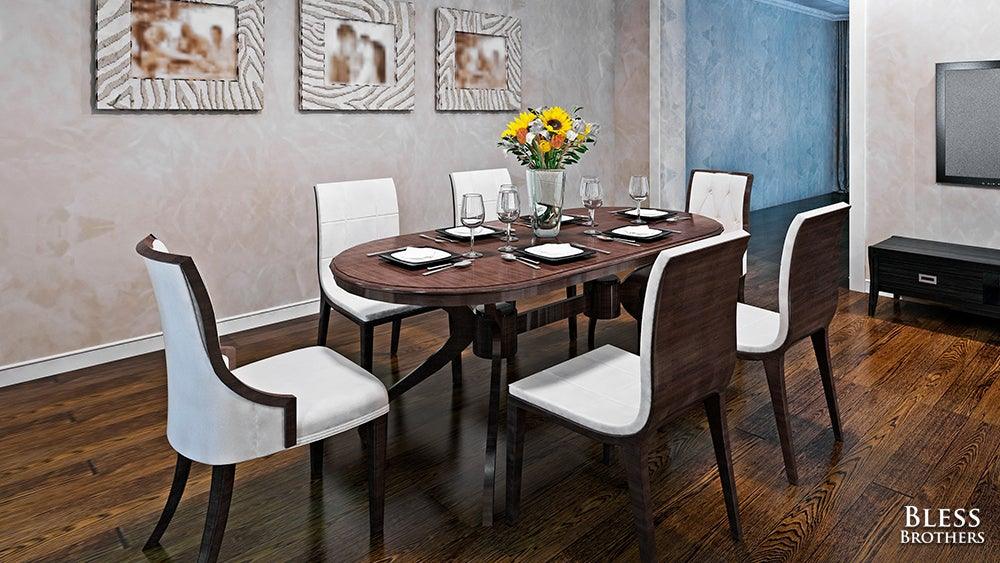 A compromise between a rectangular and rounded dining table set design, the oval dining table set has two linear sides with rounded ends, giving homeowners the best of both worlds. Rounded table dining sets create a more friendly and welcoming ambience in contrast to straight edges that might seem harsher and formal. This shape is also ideal for families with young children and pets as they are safer and reduces the chances of injuries from accidental bumping. Beyond safety, oval dining table sets are great for children as it makes it easier for them to watch other family members eat and learn table manners and etiquette. However, compared to square and rectangular dining table sets, rounded ones occupy more space as they cannot be fitted into corners. Since oval designs are typically larger in size, they're better suited to large dining rooms or kitchens.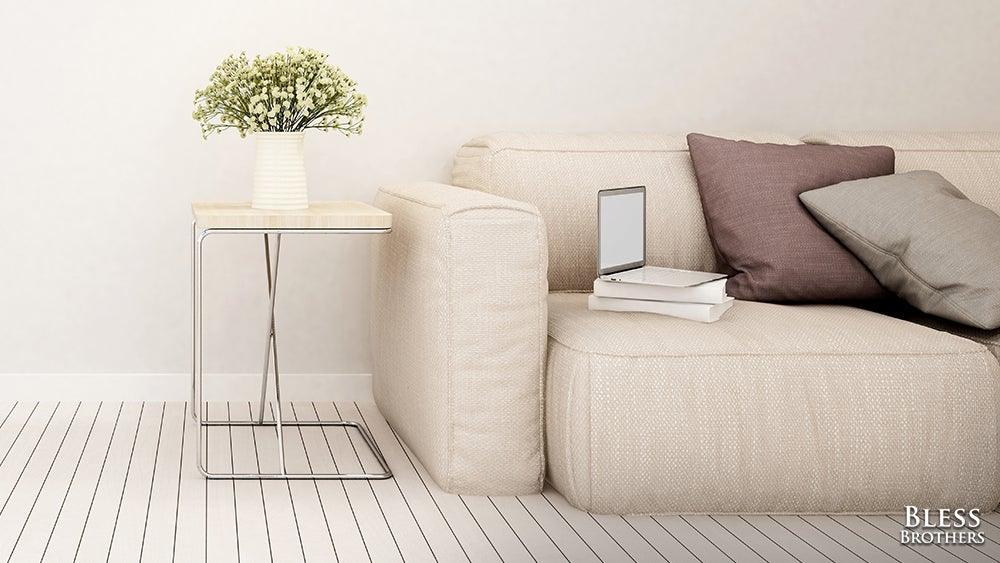 Sometimes, small furniture pieces can have the biggest impacts and the side table for your living room holds up to that notion. It offers many functionalities that make it an important furniture piece for any home, including a storage space for books, magazines and other knick-knacks. The items you place atop it can also influence the overall design of your home. Just as its name suggests, side tables are usually placed beside sofas, beds, or other pieces of furniture we sit on, and allows easy reach of items. Though it's a small piece of furniture and often left as an afterthought, there are still many considerations to getting a side table for instance the dimensions and style. 
The right height is key when placing side tables beside chairs and sofas. Not only will a side table that is too short or too tall look out of place, it also loses its main functionality of allowing you to reach for things easily. An ideal side table for your living room should not be higher than the arm of the furniture beside it, nor should it be lower than the seat of the chair. The best size is around three inches shorter than the arm. With regards to armless furniture, use either a side table that is the same height as the seat or measure the maximum height your guests can comfortably reach while seated.
Side tables should not be the focal point but instead, complement your main furniture piece in the living room. For example, if you own a contemporary sofa and are going for an overall modern aesthetic, then perhaps a square or rectangular side table with neutral colours is best suited for this style, where neutrality and fine lines are heavily emphasised. With that being said, it does not mean you have to curb your creativity and limit yourself by not having side tables in unique shapes and materials. The side table is best at introducing new colours and textures after all. Just keep in mind to maintain balance and harmony by choosing tables of similar size and visual weight with regards to the other furniture around it. This allows the side table to blend into the background while other, larger pieces become the focal point of the room.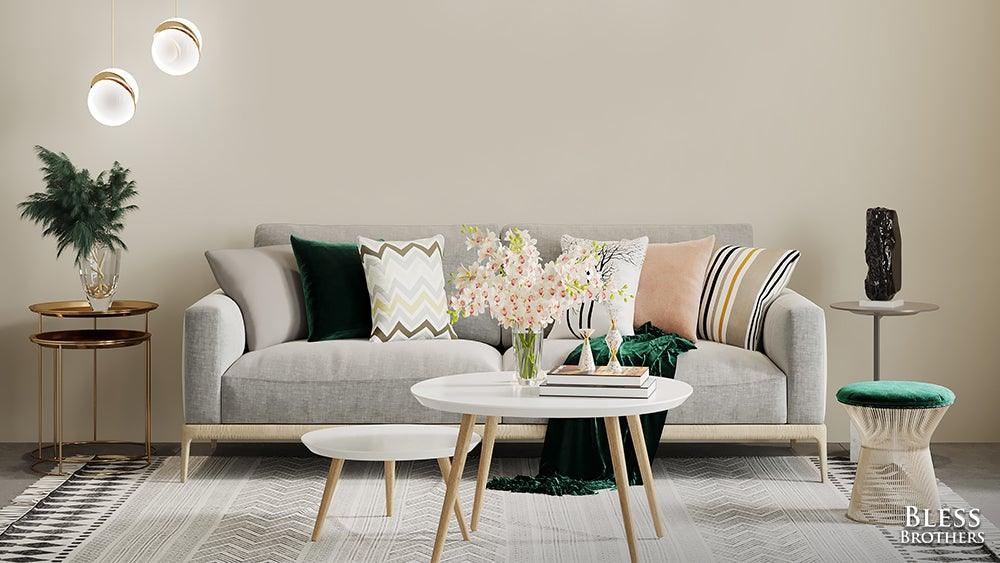 Many think of coffee tables as a furniture to place their beverages. However, the coffee table's purpose extends beyond that. Like a side table, it can be used as a storage space for your remote and reading material, hold other decorations that enhance the overall aesthetics of your house and helps create flow of traffic through furniture. When buying a coffee table in Singapore, think about the kind of décor that will be placed on top and get a design that matches. In some cases, coffee tables are also used to complement sofas, so the design of your sofa should be considered as well. 
As mentioned above, the best guide to selecting your coffee table in Singapore is to look at your sofa. A rectangular or oval shaped coffee table complements rectangular sofas best while a rounded or square coffee table works well with sectionals or L-shaped sofas. Do also consider that different spaces and layouts call for different shapes. For a layout that is more closed off, a square or rectangular coffee table works perfectly. If your living room is a pass-through, and you'll frequently be walking around the coffee table, then a round coffee table will be a safer, more appropriate choice.
Buying the ideal coffee table in Singapore goes beyond aesthetics and you have to consider the functionalities of it as well. A good coffee table provides adequate legroom to ensure maximum comfort even after sitting for long periods of time. At the same time, it should be high enough for you to reach items on it easily. One tip is to ensure that your coffee table is between 14-18 inches from any seating clustered around it, and no more than 24 inches. With a laid out floor plan, you should be able to see how large a coffee table is needed.
Like its shape, a coffee table can bring something new to a room with a different finish. For example, a glossy or shiny coffee table helps contrast rough textures. Glass coffee tables are an attractive choice for making living rooms appear larger and facilitating a variety of decorating options, while the ruggedness and varnished appearance of wooden coffee tables make them a classic choice. Ultimately, coffee tables come in a variety of styles and designs to suit different needs. You may also consider a finish or material you will be comfortable placing your feet on when watching TV in your living room.
Home Decoration Furniture
Decoration furniture consists of the little pieces that tie your whole home together. These furniture are considered an afterthought once furnishing has been completed. A tip to decide if you require decoration furniture is to look at your entire home after a redecoration project and consider if extra elements can be added to your already existing aesthetics. Are there any awkward, empty spots? Can your chosen theme and design be further accentuated? In instances of poor planning which begets the result of exposed space, decorative pieces can cover those areas up. Lights, full length standing mirrors, plants, paintings, cushions etc. are all examples of home decoration furniture.  
Tips to Choosing the Right Furniture for Your Home
With a better understanding of the different types of furniture and their importance to our homes, we can then determine how to select the right furniture. This evaluation can be split into three attributes – aesthetics, material and quality.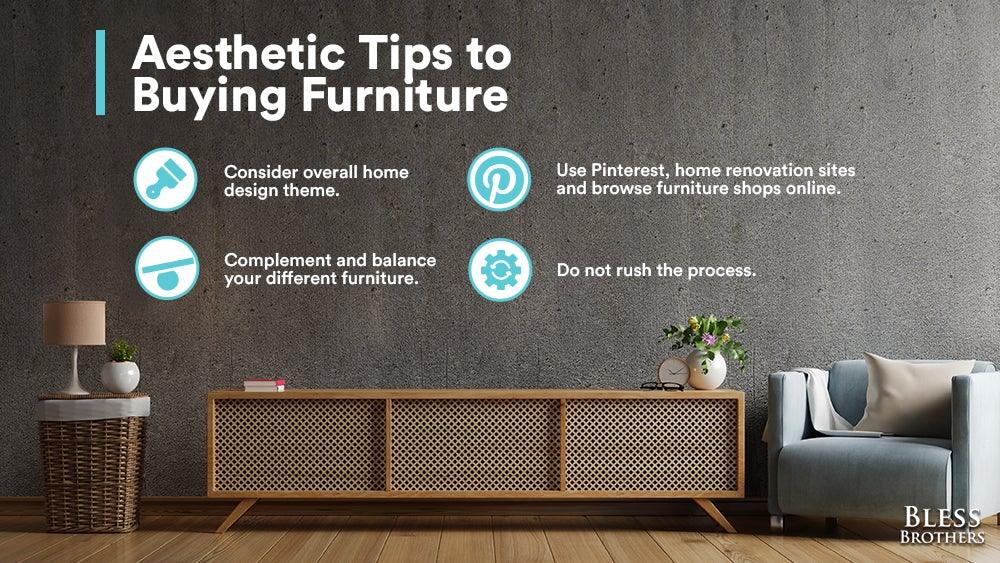 Before buying your furniture, think about the overall design theme of your home and research on what your theme entails. Do you prefer a more modern or vintage design? For the modern design, furniture with neutral colours, clean lines and geometric shapes are strongly emphasised. On the other hand, the vintage style involves high-end, antique furniture inspired by touches of colours and dynamic patterns and prints. Your chosen theme is what impacts your furniture choice.
Another tip is to surround yourself with inspiration. This is especially helpful when you're undecided on the theme of your home. Pinterest and home renovation websites are useful platforms that serve for inspiration when putting your home together. You can even browse furniture shops online and base your theme off some of the favourite furniture pieces you've come across. Take your time through this and shortlist a few of your favourite designs rather than choosing the first style you like. Furnishing your home is a big project with long-term outcomes so it is best not to rush through the process. 
Last but not least, learn to mix and match. Complementing and balancing is key when it comes to designing. Without this your home design might end up looking chaotic with a clash of colours and furniture accommodating to several different styles at once. Each piece becomes its own individual, which should not be the way with furniture. Remember, gigger furniture takes centre stage while the smaller ones including your side and coffee tables are there to complement. 
Choosing the right material means considering the members of your family as they can impact your choice. For example, families with pets or young children might do well to refrain from fragile furniture such as glass. Your desired style can also influence your material choice. For example, wood with its rustic appearance and finishing gives any house a vintage ambience. Before deciding on a material, it is important to understand what each material entails and the pros and cons of each one. As such, let us dive into some of the different furniture materials.  
Elegant, durable, and appealing leather sofas are about four times more durable than fabric sofas and continue to improve as they age. Due to their natural fibres and qualities they become more supple and softer over time, making them look more inviting than worn out. They are a good choice for homes with pets and young children. Leather sofas are also easy to maintain by simply using a damp cloth to wipe down regularly, and with leather cream, they can last for a long time.
With a myriad of designs, fabric sofas in Singapore can match any décor you desire, from modern to vintage. Since they can also be reupholstered easily compared to leather, planning a redesign or refurnishing project becomes more effortless. Generally fabric sofas are more comfortable because of the finish of the fabric; however, they tend to wear out more easily as well. Do also take note that higher maintenance is required as dirt, dust mites and allergens can remain trapped deep within the cushions and stains are not easy to get rid of. Ultimately, they are still more affordable than leather sofas in Singapore making them a popular choice among many.   
The durability of wooden furniture is unsurpassed and can last for years when well taken care of. It's unique grain and hardwood tones give a home character and individuality, accentuating an appeal that is warm, welcoming and inviting at the same time. From lighter toned woods like ash to darker hues including mahogany, there are a variety of wood choices to choose from that best resonate with your style. On the flip side, wood tends to be susceptible to water damage, which can lead to swelling and mould growth. Ultraviolet light can also change a wood's colour and damage its surface so it is best to keep wooden furniture away from these environments.   
Elegant and sophisticated, glass is a worthy choice for homeowners who delight in the modern aesthetic. It gives a home a wider, open and airy atmosphere as a result of reflecting light. When it comes to maintenance, glass is one of the easiest to clean as it does not absorb water like wood. A spray and wipe is usually sufficient to maintain its shine. Where its strength lies in its appearance and low maintenance, its most prominent shortcoming is delicacy and fragility. Glass breaks easily, which can be dangerous for households with pets and toddlers.    
Above all, marble is best known for its beauty. A marble dining set in Singapore can be customised to match a contemporary, modern, natural, traditional, or antique aesthetic, and can be crafted in a variety of beautiful natural colours. Not to mention it can be restored by a professional if maintenance is required. The disadvantage is that marble can be easily stained and sensitive to acidic foods. It is also vulnerable to temperatures and scratches, so be careful not to place hot or cold objects directly on marble and handle your marble furniture with care.  
Everyone wants good quality furniture but how can you tell good quality from poor? Quality is essential in furniture as it is a long long-term investment, especially for larger pieces of furniture including sofas and dining table sets. A good quality furniture can last over many years and remain in good condition. 
Selecting a Good Quality Sofa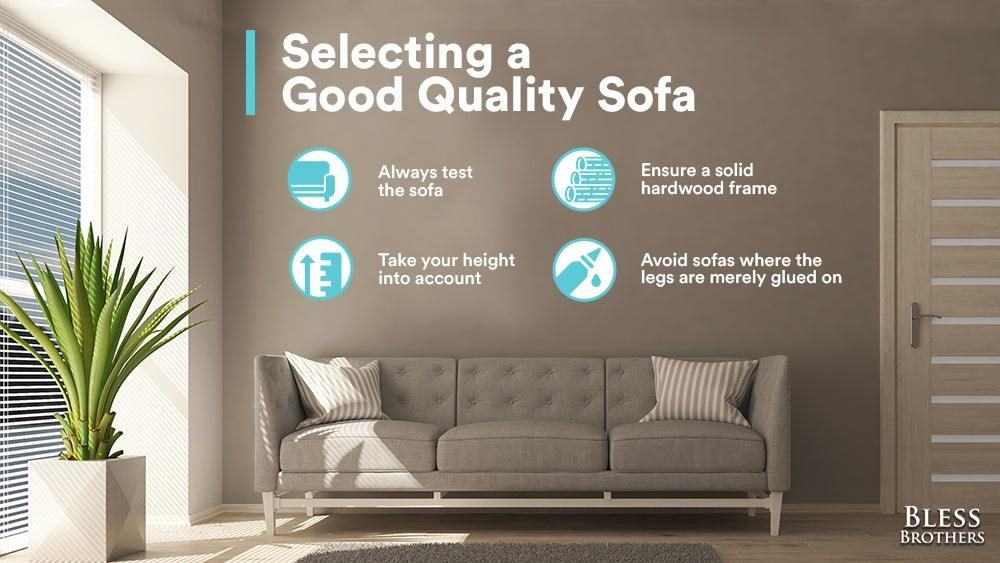 Comfort is fundamental to a good sofa. Test your sofa out before buying it. Take note of the seat depth and select the best in accordance to your height. Ensure that the couch back supports your back adequately with your feet on the floor. Next comes the frame of your sofa. A good quality sofa has a solid hardwood frame. If the sofa's legs are held on with screws or dowels, they should either be part of the frame or integral to it. The easiest way to test your sofa frame is to lift the front corner or leg about six inches off the ground. The frame is weak if its other front leg doesn't rise quickly off the floor as well.  
Selecting a Good Quality Dining Table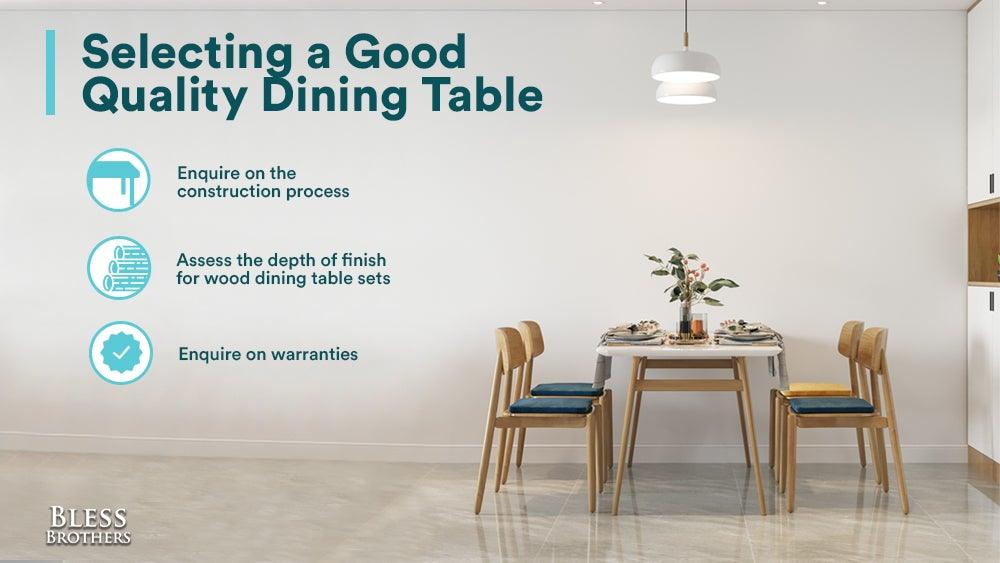 One of the elements of a quality dining table set lies in the type of construction. Manufacturers of the best quality furniture often use construction methods that take longer and involve more effort. For wooden dining table sets, quality assessment can be made from the depth of finish. The depth of finish refers to the wood stains and varnishes used. Faux woods, plastics, laminates, and wood veneers will not have a natural deep wood finish. This is a good indicator of whether the dining table set is constructed from natural wood or artificial wood materials. You can also determine a dining table set quality from warranties as they are a mark of confidence from the product manufacturer in the products made. In addition to helping you rank the piece more accurately, warranties also let you know how long you can expect your furniture to last.
Furniture plays an important role in our homes and lives. Ultimately buying furniture comes down to two main elements – form and functionality. Bless Brothers is a furniture shop in Singapore, ready to support you through your furniture needs and help transform your house into your dream home. Contact us today!