From your luxury bags and high-end fashion apparels to footwear and furniture, the leather material, versatile and robust in nature has been a popular material choice used for a variety of purposes. When it comes to furniture, leather sofas in Singapore are in high demand. This is no surprise considering the many benefits that they bring to owners. For one, its sleek and modern appearance injects an aura of sophistication that elevates any home style. 
Beyond aesthetics, maintaining a leather sofa is also effortless, requiring an occasional light dusting or rubbing down. Not to mention, leather is extremely durable and can last for decades when properly cared for. Unknown to many, leather comes in many types with different characteristics for each one. Before buying a leather sofa, it is important to know the different types of leather sofas offered and how they best suit your home and lifestyle.
The crème de la crème, the A-list, the cream of the crop of all leather, full grain leather sofas exudes nothing less than authenticity. With minimal treatment and processes apart from hair removal and soaking, this leather retains the look and texture of actual hide. Though its purity and pristine quality translates to a hefty price tag, it is unmatched for its rich taste, buttery softness, and distinctive character. 
Full-grain leather consists of three full layers – the grain, the junction and the split. The grain makes up the top layer of your full-grain leather sofa. This part of the hide is the strongest due to the tight weave and dense fibres. The junction is where fibres are starting to loosen and the grain of the hide is shifting towards the split (suede) fabric. Finally, the split is the deepest layer of the three. The softer, looser fibres that make up this layer renders it the weakest part of the hide and the layer that suede is composed of.   
The name for this leather sofa material is derived from the process of having its very top layer sanded off. This can also be referred to as splitting leather. Buffering the top layer allows for a myriad of finishes to be applied. This finishing coat protects top grain leather sofas against stains that would otherwise stick to full grain leather. Though top grain leather is less susceptible to stains, it does not age well and will not develop a patina in comparison to full grain leather sofas. Sanding off the top layer also means that the strongest fibres in the natural grain hide are no longer present. This makes top grain leather sofas less durable, which results in owners having to perform proper maintenance care for a material that is more delicate and prone to scratching.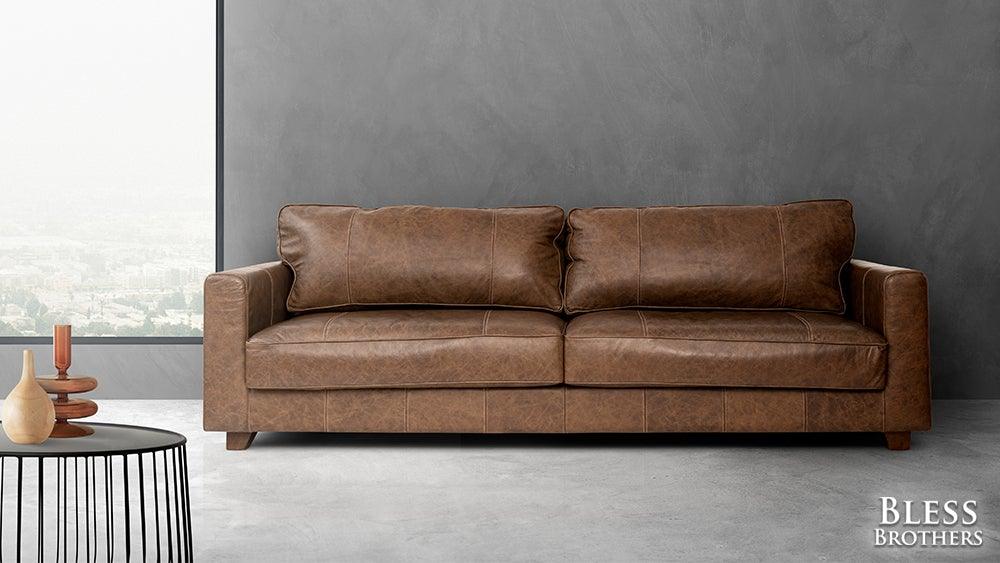 Imagine a full grain leather sofa that has aged so magnificently, that its patina is soft, burnished and beautified. This is the vintage leather sofa. A leather patina is something created through constant use, such as the scratches and marks on your wallet left by your keys or the darker spots on the cover of your journal where your hands rub and touch. Often a hallmark of quality and its uniqueness to each individual, leather patinas are highly sought after. It is almost impossible to accurately replicate the look of genuine vintage leather due to its unique imperfections. Vintage leathers are between 20-100 years old. Anything beyond is considered antique.
Chesterfield sofas are renowned for their vintage look and feel. Vintage leather sofas in Singapore are much more than simple pieces of furniture – they are a statement of style, a symbol of comfort and a future heirloom all at the same time. It exhibits remarkable characteristics and has impeccable qualities, including durability, excellent looks and a luxurious feel. Having such strength and durability makes it perfect for families and people with young children and pets.
The best part? Vintage sofas can be bequeathed from generation to generation, and continue to age with class. The patina will relentlessly burnish according to how it's used, making for a work of art that is different for each generation that receives it and cannot be duplicated. Owning a vintage leather sofa is akin to owning a piece of history and should be properly cared for. Avoid getting the leather wet and use a quality leather conditioner regularly.  
Ultimately, the leather sofa you choose should reflect your personality and home aesthetics. If you're looking for the authenticity of a leather sofa, look for "imperfections" in the grain. The grain of real leather should have a few bumps and blemishes. 
As an enthusiast for vintage sofas in Singapore, Bless Brothers designs and crafts full leather sofas that weave historical pieces and modern touches. With a range of Chesterfield sofas that gives our collection the refreshing throwback look that fits a modern home, contact us now to satiate your design pursuit of vintage classics and contemporary pieces!